The main equipment of edible oil refinery machine is various kinds of vessels and tanks carrying on different tasks with additives. These tanks may include sedimentation/filtering, neutralization (removing free fatty acid), degumming, decolorization (bleaching), deodorization, especially the dewax process is necessary, more wax would destroy the quality of cooking oil.
Different combination of steps and the treating degree of each step result in different grade cooking oil and salad oil.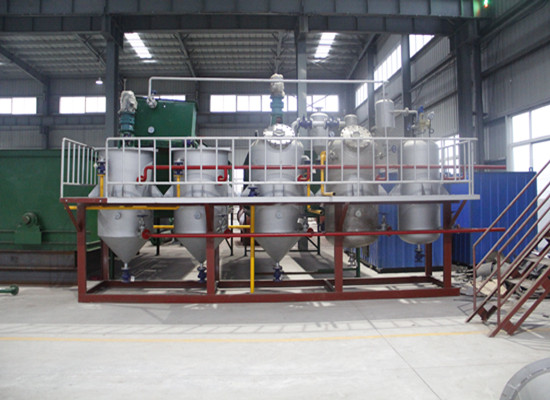 Edible oil refinery plant
Degumming:
This is the most important section of hydrate de-gumming, manage the adding water (there is a little P-acid in the water) amount, temperature and add water speed, usually water adding amount is about 3 times of phospholipid content, that is 3-10% oil weight, water temp needs to be higher than oil temp.
Deacidification:
This part adopt alkali refining method, that is use alkalis like (NaOH) to neutral the free fatty acid in oil, during this process it will produce soap stock , then separated from the oil by setting several hours. NAOH solution, not only neutral free fatty acid, also can act with other matters like protein, mucus, phospholipid, pigment. After settling, release the soap stock from the tank bottom. Adding hot water to rinse, remove off the leftover lye, soap and some unhydrated phospholipid in the oil. Finally pumping soap stock out from the tank bottom.
Decolorization:
In normal situation , there is pigment in the crude oil , we need to using the active clay to absorb the pigment away , after 20 mins , we use the vibrating filter to filter the waste clay away . If you want to get light color oil , you need to add more active clay . That is mean , the customer can accord to his requirement to control the oil color. This process is carried out under the mustard oil mill and mustard oil expeller machine condition.
Deodorization:
In batch type edible oil refinery plant, usually use stripping deodorization tower. The peculiar smell impurity and oil have different volatility. Under the condition of high temperature, let the peculiar smell impurity stripping with steam to deodorization.
Henan Doing Company can provide various cooking oil production line for different processing purpose. We are professional oil press manufacturer who is specialized in customizing the most suitable solution according to your raw materials and production scale.  If you are interested in cooking oil refining equipment, welcome to contact Ms Sophia.
Skype: sophia.zang1
Whatsapp/cel: 0086 135 2662 7860
Tel: +86 371 5677 1823
Email: This email address is being protected from spambots. You need JavaScript enabled to view it.
Know more: