We all know the raw materials for making glucose syrup is starch, so any crops containing starch can be used to produce syrup. Such as corn, rice, cassava, potato, etc. Doing company focus on developing new technology of syrup production, we introduce the  advanced technology that using raw grains corn to produce glucose directly. That is our corn glucose manufacturing plant.

The technology process of glucose syrup production process as below:
Extracting syrup from corns, enzymatic hydrolysis, chemical synthesis, separation and purification.
We can supply different sizes of corn glucose manufacturing plant meet your capacity requests.

We are initiative of using raw grains corn for glucose syrup production process directly and deeper conversion of syrup and sorbitol technology. We own 15 National Invention Patents, with corn syrup manufacturing plant customers all over the world. Like Russia, India, Algeria, South Africa, Nigeria, Syria, etc.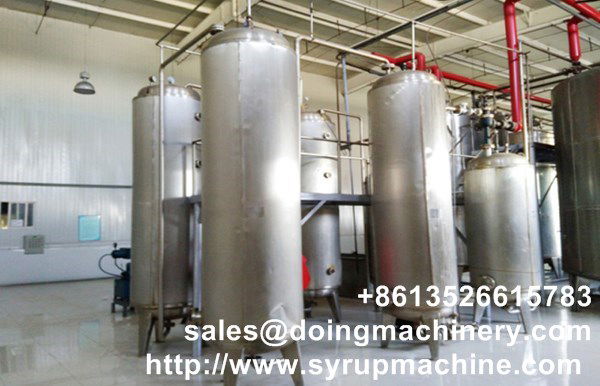 Production of glucose syrup from starch processed by the double enzymes method which is newest advanced technology. And syrup is the main starch deep processing product. Doing company supply complete set of glucose syrup production process equipments, Also technology support and transfer.

Following is the general sequence of the production of glucose syrup from starch:
Mixing starch with water to get a suitable PH value-Liquefaction process-Saccharification process-Decolorization process-Filtering process-Twice ion exchange system process-Final glucose syrup

Next is the detail introduction of the industrial production of glucose making process:

1. Mixing and liquefaction process: Mixing starch with water, adjust the PH value to 5.0-6.0, then add liquifying enzyme and into jet cooker, the temperature after jet process is controlled at 100--110℃, and keep temperature about 60 minutes. Then make second inject process to make the liquid temperature reache to 120-125℃, after 5min, the flash evaporation reduces the temperature to about 96℃ and keeps the temperature for 2 hours. Remove the cooked protein and remove fat.

2. Saccharification process: Make saccharification process with saccharification enzyme when the liquid temperature is 58-60℃, cost 24-48 hours, when the DE value reached the required can be transferred to next glucose syrup production process.


3. Decolorization process: This process mainly equipment is plate frame filter press, to get bright glucose syrup.

4. Filtration: After decolorization, remove the impurities. Usually processed by plate and frame filter press machine.

5. Ion exchange: Adjust the temperature and the PH value first, pump the syrup into the column to adjust PH value and conductance.

6. Glucose syrup evaporation process: After ion exchange system, the syrup is heating and evaporating in vacuum conditions by evaporator, then the glucose syrup concentration get our requests. Following can be storage or packing of glucose syrup production process.

7. Full stainless steel glucose syrup storage tank. This storage tank can keep the glucose syrup quality, offer for further packing and delivery.
In short, it's the introduction of industrial glucose syrup production process.

And we can give you: 1. Complete set of energy-saving production of glucose syrup from starch equipments 2. Automatic  control system with high efficiency 3. Project installation, quality check for syrup equipments and personal operation train. 4. Life long after sale service and technical support.
Inquiry: http://services.doinggroup.com.cn/kf.php?mod=client&cid=doingequipment&wid=23
Click here to give you the best price
Welcome to make an inquiry of our machine by following contacts:
Contact: Ms Elina
Email: This email address is being protected from spambots. You need JavaScript enabled to view it.
Tel: 0086 371 5677 1822
Whatsapp/Phone:0086 135 2661 5783
View more related:
syrup machine
http://www.starchprojectsolution.com