Totally machines used for processing cassava starch contain the cassava cleaning and washing machine, rasper machine for cassava crushing, centrifuge sieve and fine fiber sieve machine for cassava starch slurry washing, hydrocyclone, disc separator or vacuum filter for cassava starch milk dewater, flash dryer for cassava starch drying, also can equip the cassava starch sieving machine and packing machine for you. Above all, this is all main machines used for processing cassava starch manufactured by Doing Company.
On the following is the cassava starch processing steps introduction:
Step 1 cassava cleaning
Cassava will be transported by conveyer to dry sieve. Then dry sieve rotates its inner spirals to push cassava moving forward. In the process, some peels and dirt things of cassava will be cleaned.
Step 2 cassava washing
Next, cassava paddle washing machine will rotate its paddle, then cassava which are flow in the counter water current will be cleaned. This is the cleaning step of the production of cassava starch.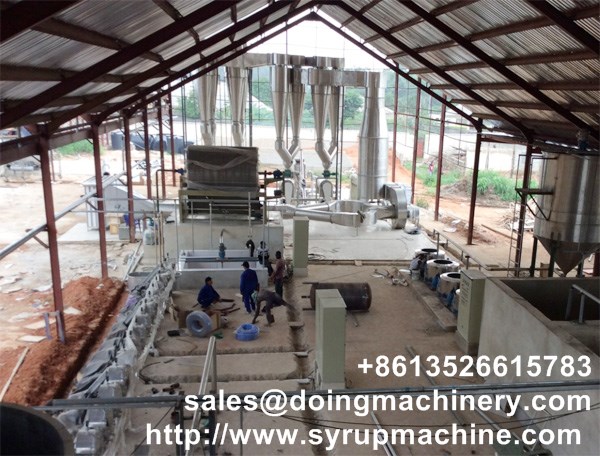 Step 3 cassava cutting
After that, the clean cassava will be transported to cassava cutting machine. The machine will cut cassava into 3-5cm pieces. It consists of foundation, main frame, cutter, motor and drive system. The step can relieve some pressure of the next machine.
Step 4 cassava crushing
For the production of cassava starch, those which have been cutted by cutting machine will be crushed by rasper. The machine has a high extraction rate. It is a bidirectional rasper, which cause high efficiency of the production of cassava starch. The machine can crush cassava into a kind of slurry.
Step 5 cassava starch extraction for machines used for processing cassava starch
Centrifugal sieve and fine fiber sieve will be used to remove fiber, cell liquid and some dirt out of cassava starch slurry. The two machines have large capacity and the two all have automatic front and back washing machine, which guarantee good operation and ensure high-efficiency operation of equipment.
And disc separator use centrifugal force to accelerate separating process and separate protein and cell liquid out of slurry. It can be used for enrichment and purification of starch slurry. Then hydrocyclone station is used to delicate and concentrate scrubbing starch milk.
Step 6 cassava starch dewatering
Then peeler centrifuge is used to dehydrate cassava starch slurry. It is a solid-liquid separation equipment. The machine can shorten separating time and increase production capacity by 50%.
Step 7 cassava starch drying of machines used for processing cassava starch
Cassava starch will be dried by air-flow flash dryer. The machine adopts negative system and cooling system, so the drying time is very short. In order to guarantee the production of cassava starch, air flow flash dryer should be operated in advance.
Step 8 cassava starch sieving and packing
After drying, cassava starch will be sieved by starch sieving machine. soon cassava starch will be by automatic starch packing machine.
Inquiry: http://services.doinggroup.com.cn/kf.php?mod=client&cid=doingequipment&wid=23
Click here to give you the best price
Welcome to make an inquiry of our machine by following contacts:
Contact: Ms Elina
Email: This email address is being protected from spambots. You need JavaScript enabled to view it.                                          
Tel: 0086 371 5677 1822                                               
Whatsapp/Phone:0086 135 2661 5783                                                 
View more related machinery:
http://www.cassavaprocessingmachine.com