---
Page2
A brake proportioning valve should replace the stock unit to get the brake bias just right. I used Wilwood's, however Mallett uses AP's valve which was over $300. Ouch.
For the front brakes, you will have to use special lug nuts from HRE with long shanks or install longer studs because the "bell" or "hat" is thicker then stock and effectively shortens the lugs. It is a real pain to press out and in the front hub bearings to change studs so we opted for the special lugs.
Another heads up is that the bell pushes your wheels out a bit more then stock and changes your offset. Actually this provides a bit more clearance for me if I ever put 285s on the front.
Mallett says do not use Castrol SRF as it eventually eats at the seals. AP brakes with AP 600 fluid makes sense to me. Motul 600 is another way to go.
Ever wonder which way to put your rotors? I did and here is a good explanation. Also AP Racing Brakes has a good site with lots of info.

Left Front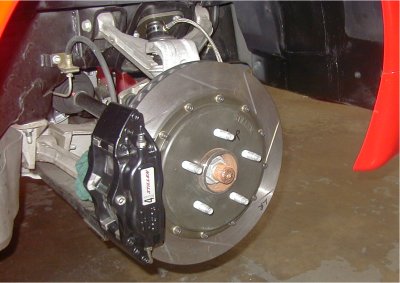 Left Rear

More To Come :)
mell@tradezone.com
©2000