---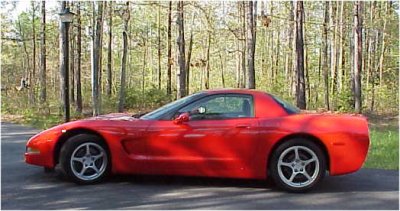 Here she is in all her stock glory before any mods.
How I got The Y2k C5 FRC Corvette
by Mell
I bought the Corvette used in 2000 on the internet for $39,000. It had 1200 miles on it. Just by looking on the internet at pictures like below, I made up my mind it was the car for me. I never even drove a C5 FRC before it arrived at Performance Associates in San Dimas, Calif. Just went by word of mouth and what I read on the Corvette Forum.
Sure, I sweated a bit after sending the owner $39,000 and waiting a month to get the car, but it was worth it. Integrity ruled in this transaction! Hehe... quite an Internet purchase eh?.
The C5 FRC was driven for 2000 very enjoyable miles to get a feel for what the stock configuration had to offer, then it was torn down for the modifications. I like to modify my cars "all at once" so the end result is "turn key". I turn the key and it goes... no more work involved and it is the way I want it. No more "getting to". Just "it is done".

Click for sticker.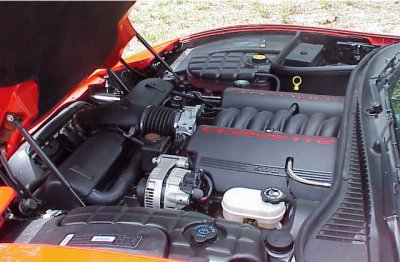 Hmmm...I wondered how that blower was going to fit in there.

Man... what a squeeze...at least it was protected from those Texas hail storms!

And off it goes from South Carolina to Southern California! My hats off to Vince the original owner and Passport Transport for getting the Vette to me in perfect condition.
mell@tradezone.com
©2000