---
First to thank Mallett for all the thought he put into making this set up work on the C5 and Stillen for making up the kits. I used Mallett's specifications and they worked out great. I recommend dealing directly with Mallett on this one. Below is some info I discovered that may help you out.
It is imperative that you know that the wheels you own or will use with the big AP 14" front rotors and 6 piston calipers will fit. With Mallett specs everything just clears. If you use HRE Wheels, they have Stillen's AP drawings and can help you get everything right. Here are two word docs you may download with more info. Each file is a bit over 856k AP1600.doc and AP1650.doc
Mallett made me a custom master cylinder to match the piston diameters of the the AP calipers. Some have reported decreased pedal height and super sensitive brakes with out it. Contact him for details. Below is a comparison between the stock unit and Mallett's. Some say you can use a stock truck unit. I can't speak to that.

Stock unit is on the left.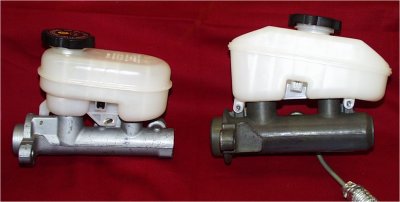 Stock unit is on the left.
mell@tradezone.com
©2000