---
C5 Corvette Clutch Master Cylinder Upgrade
by Mell
I needed a super heavy duty clutch to handle the high output of my super charged highly modified LS1 engine. My choice was the Mcleod Twin Disk Clutch.
When Mcleod first started putting the Twin Disk in C5s, the stock slave TO bearing was not living up to the task so they made their own. A design calculation error would not let the clutch fully disengage hence clutches were burning up. On the second go around the seals were not correct and the TO bearings leaked. Finally they manufactured a decent slave that would not leak.
However, they found that the stock clutch master cylinder unit was not up to the job of disengaging the Mcleod Twin Disk. The master over time can pass fluid by the seals. They are also made of plastic!
Keith at Corvette Connection (941 274 6840) has one that is working just great. It is a modified AP Racing Brake unit with pedal adjusting ability and comes with complete install instructions. He also has great input on the Mcleod clutches.
Please note that Mcleod some day will have their own clutch master cylinder unit, so you can check with them also.

Stock unit in the car.

Modified AP Racing Brakes unit.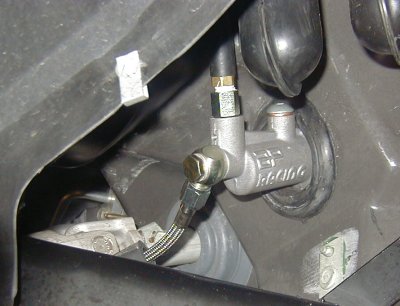 And here is the new AP unit in the car.
mell@tradezone.com
©2000