---
Tubbing A 2000 FRC C5 Corvette
by Mell
Page 2
Sand the resulting edges with 60 grit. Note the hole cut out on the flange of the part to accommodate the bulge in the trunk floor from the shock tower relief.
You will have to cut the forward edge of the part as shown to allow clearance/fitment for the frame of the car. When you move the fender in, angles go out of plane. You can use my photos to help you shape the new part.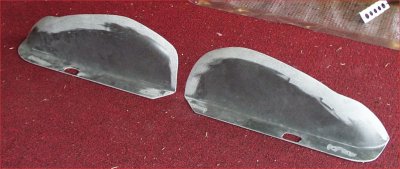 Now cleeko (sheet metal screw) the part to the floor so it will line up when you glue it in place. We used industrial strength gorilla snot or you can get a tube of what GM uses to bond the vette together to do the job. Note the 60 grit sanding completed along the edges so the resin will bond. By the way we used vinlyester resin for the fender wells and epoxy resin for the fender skirts. Put some pop rivets in your cleeko holes to hold it in place as it dries.
And the bonded part ready for glass. Note the wax paper covered cardboard lining the inside fender acting as a mold for the fiberglass. If you use epoxy instead of vinlyester resin, cover the mold with Siran Wrap instead.
mell@tradezone.com
©2000